Air Conditioning And Cooling Services in Brush Prairie, Vancouver, Battle Ground, WA and Surrounding Areas
Owning an air conditioner is now considered a necessity instead of when it was first invented. Not only do these systems allow you to remain comfortable and cool within your home, but they have also been designed to help improve the quality of air that it filters. However, this means that your system needs to undergo Air Conditioning Services regularly to maintain its efficiency.
These services are required to prevent your system from wearing out faster and avoid a spike in your utility bill. If your system has not been checked or maintained regularly, there is the likelihood of it failing. Some of the other problems that can arise are weird smells, cold spots, weird noises, etc.
With the help of Air Conditioning Services, you can avoid having expensive repairs or, even a full system replacement. So visit our website or call us today to schedule an appointment for Air Conditioning Services In Brush Prairie, WA.
In Southwest Washington, we normally use our air conditioners for only a few months a year. But during those months, they make our homes comfortable when the outside temperature is unbearable. We believe that people don't need to just "live" with the heat. Home Energy Group, Inc., can install, service or help maintain a home's air conditioning system. With a properly functioning heating and cooling system, a home can be comfortable year-round.
The goal of an Air Conditioner is to cool the home by transferring heat from inside a home to the outside in an efficient manner. Our experienced staff can create a system to meet individual's needs.
Home Energy Group Inc is one of the top HVAC contractors within the southwest Washington area. Operating since 2000, our company started with only two technicians with twenty years of experience under their belt. Gradually, with the help and trust of our customers, we have been able to grow exponentially. We now pride ourselves on providing our customers with the best customer service.
As no job is too big or too small for us, we work towards creating a healthy and efficient home for our customers. With the help of innovative tools and products, we ensure that our customers only receive the best in all aspects. Apart from residential properties, we also assist commercial businesses.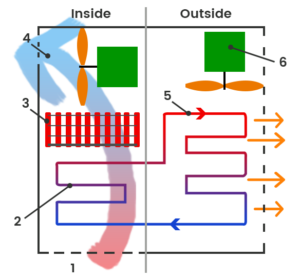 An indoor coil is connected to the outdoor unit. Hot air is blown over the indoor coil, changing the refrigerant to a gas. The heated refrigerant then flows outside where the heat is released and the liquid refrigerant then flows back to the indoor coil. At Home Energy Group, Inc. they support using refrigerants and other methods of protecting the environment.
Other AC Services Includes:
As part of our air conditioning services, we provide our customers with a wide option for them to choose from. Each service is then catered to the specific problem that our customers have. We also provide services related to heating systems as well as ventilation systems. For those unaware, our air conditioning services include:
Air Conditioning Installation
Air Conditioning Maintenance
Air Conditioning Repair
Air Conditioning Tune-Up
As one of the best in air conditioning services, we at Home Energy Group Inc always ensure that our customers are our number one priority. Here are some of the other reasons why you should choose us:
Team of Experts: Our team of technicians is always ready to help you with any problems that you may have. Being certified and experienced, they can handle any problem without any issues.
Products and Models: As there is always something new in the market, we offer our customers an array of top-notch products that come in the latest design and model.
Financial Support: Considering that HVAC services can be expensive, we provide our customers with financial aid and promotions to avail of our services when required.
Honesty and Transparency: We believe in always being truthful to our customers. That is why we make sure to be upfront about their problem and how we can help them solve it.
Connect with us for the best Air Conditioning services today!
License, Bonded & Insured
State of WA: HOMEEGI003J7
State of OR: CCB# 184255
A coil can be added by the furnace or air handler in order to connect to the outdoor unit. The indoor and outdoor units are connected by a refrigerant line. The refrigerant line transfers the heat from inside to outside. Air then moves across the indoor coil to provide the coiling for the home.
Ductless Air Conditioning Systems are used in homes where ducts can not be added or with zoning issues. They function similarly to a ducted system using refrigerant lines to expel the heat. They create a great way to zone a specific area that needs additional cooling.
If you are looking for a professional HVAC Company in Southwest Washington, please call Home Energy Group, Inc. today at (360) 944-8616 or complete our online appointment request.