Air Conditioning And Cooling Services in Brush Prairie, Vancouver, Battle Ground, WA and Surrounding Areas
In Southwest Washington, we normally use our air conditioners for only a few months a year. But during those months, they make our homes comfortable when the outside temperature is unbearable. We believe that people don't need to just "live" with the heat. Home Energy Group, Inc., can install, service or help maintain a home's air conditioning system. With a properly functioning heating and cooling system, a home can be comfortable year-round.
The goal of an Air Conditioner is to cool the home by transferring heat from inside a home to the outside in an efficient manner. Our experienced staff can create a system to meet individual's needs.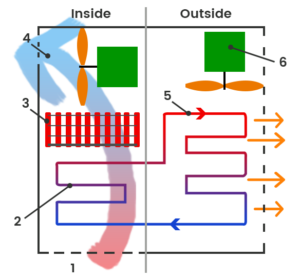 An indoor coil is connected to the outdoor unit. Hot air is blown over the indoor coil, changing the refrigerant to a gas. The heated refrigerant then flows outside where the heat is released and the liquid refrigerant then flows back to the indoor coil. At Home Energy Group, Inc. they support using refrigerants and other methods of protecting the environment.
License, Bonded & Insured
State of WA: HOMEEGI003J7
State of OR: CCB# 184255
A coil can be added by the furnace or air handler in order to connect to the outdoor unit. The indoor and outdoor units are connected by a refrigerant line. The refrigerant line transfers the heat from inside to outside. Air then moves across the indoor coil to provide the coiling for the home.
Ductless Air Conditioning Systems are used in homes where ducts can not be added or with zoning issues. They function similarly to a ducted system using refrigerant lines to expel the heat. They create a great way to zone a specific area that needs additional cooling.
If you are looking for a professional HVAC Company in Southwest Washington, please call Home Energy Group, Inc. today at (360) 944-8616 or complete our online appointment request.